Email a Question to J&L Plastic Molding!
J&L Plastic Molding – A Trusted Source
High Quality, Low Maintenance Supplier
J&L's toolmaking and molding system builds your parts to your quality specifications and quantity requirements. Our production system delivers parts based on your schedule. J&L provides quality and service based on your needs
Injection Plastic Molding Service
We specialize in prototype and production tooling, injection molding, and insert molding. Our capabilities serve you as your project progresses.
Our management system is certified to the ISO 13485:2016 standard by NQA. We serve Medical Device manufacturers.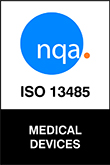 Engineered Materials Specialist
J&L processes engineering grades of materials. We produce parts that perform in demanding applications and harsh environments. View parts processed by J&L in engineering grades of material below:
Production Efficient

Our Connecticut molding facility will supply all your production requirements and needs. We operate in two buildings in Wallingford, Connecticut with 28 injection molding machines ranging from 28 to 385 tons of clamp force, and shot sizes from .6 to 24 ounces.